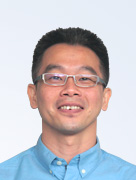 Mr CHEONG Wee Kiong
Senior Meteorologist
Weather Services Department
cheong_wee_kiong@nea.gov.sg
Mr CHEONG Wee Kiong
Mr Cheong Wee Kiong is a Senior Meteorologist under the Weather Services Department who spent a few years working under CCRS. He led and coordinated a regional climate study in analysing the trends of temperature and rainfall extremes in Southeast Asia. He was involved in the assessment of heavy rainfall trends and is part of the team in reviewing the rainfall intensity-duration frequency (IDF) curves over Singapore. His research focuses on data analysis to better understand the key processes that drive extreme weather and climate locally and in the region. Currently, his key role is looking into the transitioning from research to operational products.
Education
2008-2009
MSc, Department of Meteorology, University of Reading, United Kingdom

1995-2000
BSc and MSc, Department of Mathematics, National University of Singapore
Working Experience
2015-present
Senior Meteorologist, Weather Services Department, Meteorological Service Singapore

2011-2015
Research Scientist/Senior Research Scientist/Senior Meteorologist, Centre for Climate Research Singapore, MSS

2001-2010
Meteorologist, Weather Services Department, Meteorological Service Singapore
Research Interests
Climate data analysis and application

Topical weather processes study
John L. Mcbride, Sandeep Sahany, Muhammad E. E. Hassim, Chi Mai Nguyen, See Yee Lim, Raizan Rahmat, and Wee Kiong Cheong, 2015:
The 2014 record dry spell at Singapore: An intertropical convergence zone (ITCZ) drought.
Bull. Amer. Meteor. Soc., 96, S126–S130. doi: http://dx.doi.org/10.1175/BAMS-EEE_2014_ch25.1.
Prince Xavier, Raizan Rahmat, Wee Kiong Cheong and Emily Wallace.
2014. Influence of Madden-Julian Oscillation on South East Asia rainfall extremes observations and predictability.
Geophysical Research Letters 41, 12, 4406 – 4412.
Cheong, W.K., N. Golding, S.Sirabaha, K.F. Kwan, T.A. Cinco, B. Archevarahuprok, V.H. Ho, D. Gunawan and S. Han (In review):
Observed and modelled temperature and precipitation extremes over Southeast Asia from 1972-2010.