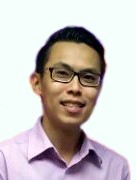 Mr Christopher GAN
Senior Research Scientist
Department of Weather Research
Weather Modelling Applications Branch
christopher_gan@nea.gov.sg
Mr Christopher GAN
Mr Christopher Gan's research work focuses on atmospheric dispersion aimed at enhancing the understanding and assessment of air pollutant impacts across tropical Southeast Asia. His key interests include dispersion modelling of biomass burning smoke, from emissions to transport and downstream impact on regional air quality. With prior experience as an operational meteorologist, he also has a keen interest in facilitating the transition from research to operations.
Education
2009-2010
Applied Meteorology Course for Forecasters, World Meteorological Organization Regional Training Centre, Nanjing, China

2005-2009
BEng (Hons) in Mechanical Engineering, National University of Singapore
Working Experience
2017-present
Senior Research Scientist, Centre for Climate Research Singapore, MSS

2013-2017
Research Officer/Research Scientist, Hazard Risk & Impact Assessment Unit, Risk & Resource Department, MSS

2009-2013
Meteorologist, Weather Services Department, MSS
Research Interests
Atmospheric dispersion modelling
Biomass burning in Southeast Asia
Tropical meteorology
Hansen, A.B., Witham, C.S., Chong, W.M., Kendall, E., Chew, B.N., Gan, C., Hort, M.C. and Lee, S.Y., 2019.
Haze in Singapore – source attribution of biomass burning PM10 from Southeast Asia.
Ruti, P., Tarasova, O., Keller, J., Carmichael, G., Hov, Ø., Jones, S., Terblanche, D., Anderson-Lefale, C., Barros, A., Bauer, P., Bouchet, V., Brasseur, G., Brunet, G., DeCola, P., Dike, V., Kane, M.D., Gan, C., Gurney, K., Hamburg, S., Hazeleger, W., Jean, M., Johnston, D., Lewis, A., Li, P., Liang, X., Lucarini, V., Lynch, A., Manaenkova, E., Jae-Cheol, N., Ohtake, S., Pinardi, N., Polcher, J., Ritchie, E., Sakya, A.E., Saulo, C., Singhee, A., Sopaheluwakan, A., Steiner, A., Thorpe, A. and Yamaji, M., 2020.
Advancing Research for Seamless Earth System Prediction.
Baklanov, A., Chew, B.N., Frassoni, A., Gan, C., Goldammer, J.G., Keywood, M., Mangeon, S., Manseau, P.M., Pavlovic, R., 2020.
The WMO Vegetation Fire and Smoke Pollution Warning Advisory and Assessment System (VFSP-WAS): Concept, Current Capabilities, Research and Development Challenges and the Way Ahead.
BioBrasil, submitted
Chia, Z.Y., Gan, C., 2020.
Understanding the impact of transboundary haze on surface solar irradiance in Singapore.
Goldammer, J.G., Mangeon, S., Keywood, M., Kaiser, J.W., de Groot, W.J., Gunawan, D., Gan, C., Field, R., Sofiev, M., Baklanov, A., 2018.
WMO GAW Report 235 – Vegetation Fire and Smoke Pollution Warning and Advisory System (VFSP-WAS): Concept note and expert recommendations.
https://library.wmo.int/opac/index.php?lvl=notice_display&id=20244.
Lee, S.Y., Gan, C., Chew, B.N., 2016.
Visibility deterioration and hygroscopic growth of biomass burning aerosols over a tropical coastal city: a case study over Singapore's airport.
Hertwig, D., Burgin, L., Gan, C., Hort, M., Jones, A., Shaw, F., Witham, C., Zhang, K., 2015.
Development and demonstration of a Lagrangian dispersion modeling system for real-time prediction of smoke haze pollution from biomass burning in Southeast Asia.