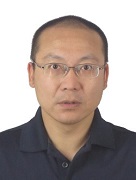 Mr LIU Jianyu (Jerry)
IT System Analyst
Weather Modelling & Prediction Section
Mr LIU Jianyu (Jerry)
Mr Liu Jianyu has 18 years of diverse experience in research, field operations and computer analysis in the meteorological science and technologies. He is presently working on a collaboration project with UK Met Office. His research can be categorised into (1) ensuring efficient use of the CCRS high performance computing system; (2) implementing and maintaining robust operation systems; and (3) working with the research scientists to maintain their high performance and productivity by providing support and advice in weather science IT matters.
Education
1993-1997
BSc in Atmospheric Science, Sun Yat-Sen University, China
Working Experience
2015-present
IT System Analyst, Centre for Climate Research Singapore, MSS

2013-2015
Senior Software Engineer, Nanjing University of Information Science & Technology, CAS, China

2010-2013
Research Scholar, National Centre for Atmospheric Research, MMM, USA

2001-2010
Senior Software Engineer, Yunnan Institute of Meteorology, China

1997-2001
Forecaster, Yunnan Meteorological Observatory, China
Research Interests
Operational application research and development in meteorology
Technical support for high performance computing application in meteorology
Operational management for HPC centres for education and research
Development and maintenance of the mesoscale numerical weather prediction system
Wang, H., Huang, X.-Y., Liu, J., Xu, D. 2014.
A scale-dependent blending scheme for WRFDA: Impact on regional weather forecasting.
Geosci. Model Dev., 7, 1819-1828. doi:10.5194/gmd-7-1819-2014.
Zhang, X., Huang, X.-Y., Liu, J.,Poterjoy, J., Weng, Y., Zhang, F., Wang, H. 2014.
Development of an efficient regional four-dimensional variational data assimilation system for WRF.
J. Atmos. Oceanic Technol., 31, 2777-2794, doi:10.1175/JTECH-D-13-00076.1.
Haginoya S., Fujii, H., Sun J., Liu J. 2012.
Features of air-lake interaction in heat and water exchanges over Erhai Lake.
J. Meteorol. Soc. Japan, 90C, 55-73. doi:10.2151/JMSJ.2012-C04.
Wang, L., Koike, T., Wang, M., Liu, J., Sun, J., Lu, H., Tsutsui, H., Tamagawa, K., Xu, X. 2012.
Use of integrated observations to improve the 0-36h stream flow forecasts: A case study in the Nanpan River Basin (Yunnan province, China) on 1 July 2008.
J. Meteorol. Soc. Japan, 90C, 131-144.
Sun, J., Baker, B., Bachelet, D., Daly, C., Ma, J., Liu, J. 2006.
Impact of climate change in the Hengduan Mountains of northwestern Yunnan, P.R. China: vegetation distribution change in the foretime and future.
Proc. Spie 6296, Earth Observing Systems XI, 62960X (September 08, 2006); doi:10.1117/12.678964.