Seasonal Outlook
The seasonal outlook research provides seasonal forecasts for Singapore and the surrounding Southeast Asian region that can assist end users to manage risks posed by seasonal climate variability. Better management of risks associated with natural climate variability is a useful first step in dealing with future climate change.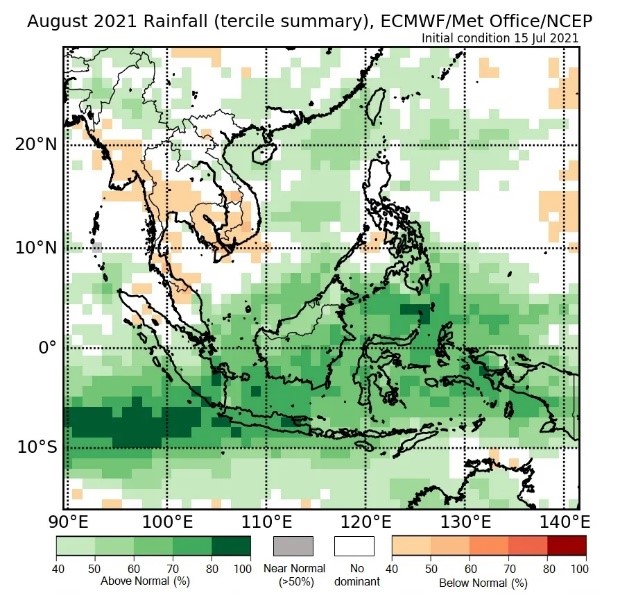 Fig: Seasonal Outlook
Objective Seasonal Forecasts
CCRS currently produces monthly and seasonal forecasts for Singapore based on the latest dynamical and statistical modelling techniques. Global model forecasts are taken from a number of international modelling centres. Combined with physical reasoning based on the current state of the El Niño-Southern Oscillation (ENSO) phenomenon and knowledge of Singapore's climate, a forecast is developed and issued to the MSS forecast office through an internal monthly climate outlook forum.
Research is ongoing to develop objective outlooks utilising the output from a number of global seasonal models. The "hindcast" output from each model will be verified for Singapore for precipitation, wind and temperature. Based on these evaluations, an objective algorithm will be developed for monthly and seasonal forecasts for Singapore. At the regional level, this work will be included in the Long-range Forecasting Node of the Southeast Asia Regional Climate Centre-Network, which is led by Meteorological Service Singapore (Long-range forecasting).
Regional Climate Outlook Forum
CCRS has worked with other countries in the region and with WMO to establish a Regional Climate Outlook Forum (RCOF) for Southeast Asia. These meetings involve participants from WMO, ASEAN countries, experts form the major global modelling centres and regional end-users. The first ASEANCOF (Association of South-East Asian Nations Climate Outlook Forum) meeting took place in December 2013 and meetings are held each year ahead of the boreal winter and summer monsoon seasons. You can find the latest ASEANCOF consensus here.