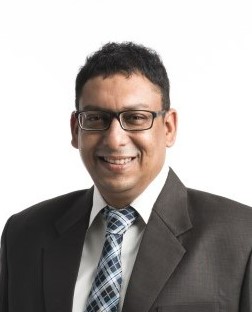 Dr Anupam KUMAR
Senior Research Scientist
Department of Climate Research
Climate Change Impacts Branch
Dr Anupam KUMAR
As a Senior Research Scientist at the Climate Change Impacts Branch under the Department of Climate Research at CCRS, Dr Anupam Kumar studies the impact of climate change on the Urban Heat Island (UHI) effect and Food Security in Singapore. In this role, he is investigating the factors contributing to an increased understanding of the UHI effect and food insecurity under future warming. To achieve these objectives, an integrated interdisciplinary research experience is needed and so, Dr Kumar is trained in a range of methods including modelling of extreme events and catastrophe risk modelling. Among these efforts are also the collaborations with stakeholders to identify the potential knowledge gaps and research priorities to support the national decision-making process.
Dr Kumar is an expert in weather modeling and has previously led the Numerical Modelling efforts at the Solar Energy Research Institute of Singapore (SERIS) in one of the ambitious projects of the Singapore government to enhance solar energy capabilities under the Energy Market Authority grant. He has also worked as a Senior Modeler for Risk Management Solutions (RMS, Inc.) in developing an integrated crop forecasting platform, CRAFT for the six South Asian countries in collaboration with the Climate Change Agriculture and Food Security (CCAFS). He also represented the RMS, Inc. as a member of the Expert Committee formed by the Ministry of Earth Sciences, Govt. of India to review and recommend the weather indices for crop insurance. As a Scientist at India Met Office, Dr Kumar obtained the professional training to work on HPCS (High-Performance Computing System) and numerical models from their performance benchmarking and profiling to operational weather forecasting of extreme events such as thunderstorms, tropical cyclones, monsoon depressions, and related events. He was among the key operational NWP forecasters for the Commonwealth Games held in New Delhi. He also implemented Polar WRF at the India Meteorological Department HQ (IMD) to meet the operational and logistic needs of the Indian Antarctic Program.
Dr Kumar is an alumnus of Nanyang Technological University, Singapore, and the Indian Institute of Technology, Kharagpur. He is a fellow of the Aeronautical Society of India, and a life member of the Association of Agro meteorologists. In addition, he is serving as co-Guest Editor for the Special Issue of MDPI Climate Journal. He enjoys travelling and communicating with interdisciplinary audiences.
Education
2014-2018
PhD, Nanyang Technological University, Singapore

2006-2008
Master of Technology, Indian Institute of Technology Kharagpur, India

2000-2004
Bachelor of Engineering, The Aeronautical Society of India, India
Working Experience
2021-present
Senior Research Scientist, Centre for Climate Research Singapore, MSS

2018-2021
Postdoctoral Researcher, Solar Energy Research Institute of Singapore, Singapore

2010-2014
Senior Modeler, Risk Management Solutions, India

2008-2010
Scientist, India Meteorological Department, India

2004-2006
Design Engineer, National Aerospace Lab, India
Research Interests
Climate change impacts
Extreme weather events
Catastrophe risk modelling
Renewal energy