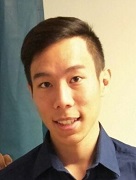 Mr Joshua LEE
Research Scientist
Department of Weather Research
Weather Modelling Development Branch
Mr Joshua LEE
Mr Joshua Lee's work in CCRS focuses on improving the data assimilation system for SINGV, a convective-scale numerical prediction model for Singapore, as part of a team. Prior to this, he worked on the Madden-Julian Oscillation and its teleconnections, as a potential source of sub-seasonal/seasonal predictability. Aside from his research interest in data assimilation, he is also excited about the possibility of implementing machine learning techniques in weather forecasting.
Education
2017-2018
MSc in Atmosphere, Ocean and Climate, University of Reading, United Kingdom

2014-2017
BSc in Mathematics and Meteorology, University of Reading, United Kingdom
Working Experience
2018-present
Research Officer/Scientist, Centre for Climate Research Singapore, MSS
Research Interests
Data assimilation
Sub-seasonal/Seasonal predictions
Madden-Julian Oscillation
Applications of machine learning in meteorology
Lee, J. C. K., Lee, R. W., Woolnough, S. J., and Boxall, L. J., 2020:
The links between the Madden-Julian Oscillation and European weather regimes.
Theoretical and Applied Climatology, 141, 567-586.
Lee, J. C. K., and Huang, X.-Y., 2020:
Background error statistics in the tropics: Structures and impact in a convective-scale numerical weather prediction system.
Quarterly Journal of the Royal Meteorological Society, 146, 2154-2173.
Lee, J. C. K., and Klingaman, N. P., 2018:
The effect of the quasi-biennial oscillation on the Madden-Julian oscillation in the Met Office Unified Model Global Ocean Mixed Layer configuration.
Atmospheric Science Letters, 19(5), e816.