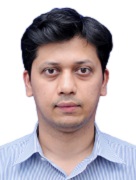 Dr Sandeep SAHANY
Deputy Principal Research Scientist
Department of Climate Research
Climate Projections and Extremes Branch
sandeep_sahany@nea.gov.sg
Dr Sandeep SAHANY
Dr Sandeep Sahany leads the Climate Projections and Extremes (CPE) Branch of the Department of Climate Research at CCRS. He is part of the team working on the Third National Climate Change Study for Singapore.
Dr Sahany previously worked as an Assistant Professor at the Indian Institute of Technology Delhi (IITD), India, before joining CCRS. At IITD, he was teaching climate modelling at both graduate and undergraduate levels, supervising PhD and Masters students and Postdocs, and conducting research on climate model validation and development, climate change projections, climate change impact studies, and process studies. During the last few years, he was co-leading the DST Centre of Excellence in Climate Modeling at IITD (tasked to develop the India-Centric Climate Model (ICCM) as part of developing strategic knowledge in the area of climate change to support Indian policy-makers), a major research initiative sponsored by the Department of Science and Technology, Government of India.
Dr Sahany has published about 30 peer-reviewed research papers in international journals.
Education
2004-2010
PhD, Indian Institute of Science, Bangalore, India

1997-2001
BEng (Mech), University College of Engineering, Burla, India
Working Experience
Feb 2020–present
Senior / Deputy Principal Research Scientist, and Head, CPE Branch, Department of Climate Research, Centre for Climate Research Singapore, MSS, Singapore

Aug 2015–present
Assistant Professor, Indian Institute of Technology Delhi, India

Aug 2014–Aug 2015
Senior Research Scientist, Climate Branch, Centre for Climate Research Singapore, MSS, Singapore

Feb 2014–Jul 2014
Research Scientist, Climate Branch, Centre for Climate Research Singapore, MSS, Singapore

Aug 2010–Feb 2014
Postdoctoral Researcher, University of California Los Angeles, USA

Oct 2009–Jul 2010
Staff Research Associate, University of California Los Angeles, USA

Jun 2002-Apr 2004
Software Engineer, Infosys Technologies Limited, India
Research Interests
Climate model validation and development
Understanding precipitation processes in observations and models
Climate change science
Climate change impact assessment
Monsoons