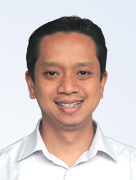 Mr Raizan RAHMAT
Deputy Principal Research Scientist
Seasonal & Sub-seasonal Predictions Section
Climate Branch
Mr Raizan RAHMAT
Mr Raizan Rahmat's work in CCRS focuses on generating seasonal and subseasonal predictions for Singapore and the region, and improving their accuracy and usefulness. He is part of the team that works on producing long-term climate projections for Singapore to support its efforts in being resilient to climate change. Raizan also conducts research to better understand the key processes that drive extreme weather and climate locally and in the region.
Education
2011-2012
MRes in Physics of the Earth and Atmosphere, University of Leeds, United Kingdom

2008
PG Dip in Meteorology, Victoria University of Wellington, New Zealand and Professional Meteorological Training at New Zealand Met Service

2005-2007
MSc Industrial and Systems Engineering (Operations Planning), National University of Singapore

2000-2004
BEng (Hons) in Electrical and Computer Engineering, National University of Singapore
Working Experience
2012-present
Research Scientist/Senior Research Scientist, Centre for Climate Research Singapore, MSS

2008-2011
Meteorologist, Weather Services Department, Meteorological Service Singapore

2005-2007
IT Executive, Ministry of Education

2004-2005
Systems Analyst, Enterprise Resource Planning Development
Research Interests
Extreme weather predictions
Hassim, M. E., R. Rahmat, R. K. Lestari and B. Timbal, 2016:
Generating climate change rainfall scenarios for Singapore: A tale of scale.
COSMOS, 12(1), 8-13, doi:https://doi.org/10.1142/S0219607716710014.
John L. Mcbride, Sandeep Sahany, Muhammad E. E. Hassim, Chi Mai Nguyen, See Yee Lim, Raizan Rahmat, and Wee Kiong Cheong, 2015:
The 2014 Record Dry Spell at Singapore: An Intertropical Convergence Zone (ITCZ) Drought.
Bull. Amer. Meteor. Soc., 96, S126–S130. doi: http://dx.doi.org/10.1175/BAMS-EEE_2014_ch25.1.
Prince Xavier, Raizan Rahmat, Wee Kiong Cheong and Emily Wallace, 2014
Influence of Madden-Julian Oscillation on Southeast Asia rainfall extremes: Observations and predictability
Geophysical Research Letters. 33(4), 54-56.
Report of the Third Session of the ASEAN Climate Outlook Forum (ASEANCOF-3), Dec 2014
C. Gordon, R. Rahmat and Lim SY, Dec 2013
Priority needs for dynamical-model climate predictions: Questionnaire for suppliers of climate forecast services in the ASEAN region
Report of the Third Session of the ASEAN Climate Outlook Forum (ASEANCOF-1), Dec 2013
Raizan Rahmat (report coordinator), Boonlert Archevarahuprok, Chai Ping Kang, Chung Jing Xiang, David Hein, Dodo Gunawan, Erasmo Buonomo, Grace Redmond, Haji Sidup Haji Sirabaha, Han Swe, Itesh Dash, Jacqueline Lim See Yee, Jose Riza5, Kornrawee Sitthichivapak, Kumarenthiran Subramaniam, Lalit Dagar, Liew Ju Neng, Ling Leong Kwok, Lyhon Ho, Mai Van Khiem, Matt Palmer, Monichoth So Im, Muhammad Yunus Ahmad Mazuki, Ngai Sheau Tieh, Thanh Ngo-Duc, Saiful Azmi bin Haji Husain, Shamsuddin Shahid, Simon Tucker, Srivatsan V., Suppakorn Chinvanno, Thelma Acebes Cinco, Thuy Tran Thanh, Vo Van Hoa, and Wittyi Soe, 2014
A regional climate modelling experiment for Southeast Asia.
Southeast Asia Climate Analysis & Modelling (SEACAM), The 1st Southeast Asia Regional Climate Downscaling (SEACLID)/CORDEX Southeast Asia Workshop, 18 Nov 2013, Jakarta, Indonesia.
Evaluation of CMIP5 Models for Southeast Asia, 4th SEACAM Workshop, 27 Feb 2014, Singapore.
ASEANCOF – Seasonal Forecasting Challenges in Southeast Asia and The Inaugural ASEAN Climate Outlook Forum, WMO Technical Conference on Climate Services, 30 Jun 2014, Heidelberg, Germany.
Developing Climate Change Scenarios for Singapore, CSIRO Seminar, 22 Jul 2014, Melbourne, Australia.