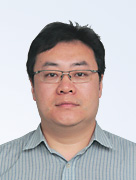 Dr SUN Xiangming
Senior Research Scientist
Weather Modelling & Prediction Section
Dr SUN Xiangming
Dr Sun Xiangming is currently working on a multi-year project on the convective-scale Numerical Weather Prediction (NWP) modelling and data assimilation, in collaboration with UK Met Office. His current research focuses on the NWP model background error analysis in tropical regions. Thanks to his many years of working experience as a forecaster as well as a researcher, his areas of expertise cover weather forecast, NWP modelling, data assimilation, air quality modelling and analysis, and weather processes study.
Education
1998-2001
PhD, Department of Geophysics, Peking University, Chin

1991-1998
BSc and MSc, Department of Atmospheric Sciences, Lanzhou University, China
Working Experience
2012-Present
Research Scientist/Senior Research Scientist, Centre for Climate Research Singapore, MSS

2011-2012
Research Scientist at Temasek Laboratories, Nanyang Technological University, Singapore

2001-2010
Forecaster, Senior Engineer, Division Chief at Shenzhen Met Office, China
Research Interests
Numerical Weather Prediction modelling and data assimilation
Weather Radar data analysis and application
Weather processes study
Air quality modelling and analysis
Luo Ming, Sun Xiangming, Zhang Kai, (2011).
The Implementation of Weather Doppler Radar Synthesizing System in Shenzhen
Guangdong Meteorology. 33(4), 54-56.
Sun Xiangming, Wu Chongzhou, Zhang Wenhai, (2010)
Transplanting and Application of Radar Software Library and Visualization of Radar Data
Guangdong Meteorology. 32(3), 55-56, 72.
Lin Yun, Sun Xiangming, Zhang Xiaoli, et al., (2009).
Statistical Model of the Relationship between Atmospheric Visibility and PM2.5 in Shenzhen
Journal of Applied Meteorological Science, 20(2): 252-256.
Sun Xiang-ming, Mao Xia, Li Xing-rong, (2008)
A Radar Data Synthesizing Algorithm Based on 3D Grid
Journal of Tropical Meteorology. 24(4), 359-366.