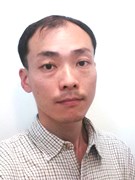 Dr Peter HENG
Senior Research Scientist
Department of Weather Research
Numerical Weather Prediction Branch
Dr Peter HENG
Dr Peter Heng is currently the lead scientist for forecast verification and model evaluation. He also works with the Weather Services Division to develop forecast products for specific applications. He was previously involved in the development and implementation of the data assimilation system for SINGV.
Education
2004-2007
PhD in Computational Mechanics, University of Dundee, United Kingdom

1998-2002
BEng in Civil Engineering, Nanyang Technological University, Singapore
Working Experience
2015-present
Research Scientist, Centre for Climate Research Singapore, MSS

2012-2015
Lecturer, Temasek Polytechnic

2011-2012
Engineer, Housing and Development Board

2010-2011
Postdoctoral Research Associate, Department of Geosciences, University of Arizona, USA

2007-2010
Postdoctoral Research Associate, School of Civil and Building Engineering, Loughborough University, United Kingdom

2002-2004
Structural Engineer, Eastern Pretech Pte Ltd
Research Interests
Forecast verification and model evaluation
Data assimilation and observation monitoring
Coupled atmosphere-ocean modelling
Heng, B.C.P. and Huang, X.-Y. 2020.
Verification of SINGV-DA forecasts over Singapore (December 2018 to November 2019).
Heng, B.C.P., Tubbs, R., Huang, X.-Y., Macpherson, B., Barker, D., Boyd, D., Kelly, G., North, R., Stewart, L., Webster, S., and M. Wlasak, 2020.
SINGV-DA: A Data Assimilation System for Convective Scale Numerical Weather Prediction over Singapore.
Q J R Meteorol Soc., 146, 1923–1938, doi.org/10.1002/qj.3774.
Huang, X.-Y., Barker, D., Webster, S., Dipankar, A., Lock, A., Mittermaier, M., Sun, X., North, R., Darvell, R., Boyd, D., Lo, J., Liu, J., Macpherson, B., Heng, P., Maycock, A., Pitcher, L., Tubbs, B., McMillan, M., Zhang, S., Hagelin, S., Porson, A., Song, G., Beckett, B., Cheong, W. K., Semple, A., and C. Gordon., 2019.
SINGV – the Convective-Scale Numerical Weather Prediction System for Singapore.
ASEAN Journal on Science & Technology for Development, 36, 3, 81–90.
Heng, B. C. P. and Gao, E., 2018.
Rainfall over Singapore in relation to local and remote sea surface temperatures.